With Memorial Day approaching, a whole host of sartorial chestnuts will soon be available to the fashion-conscious man until Labor Day, including summer seersucker. Here's how to avoid looking like a wrong-side-of-history extra in Django Unchained.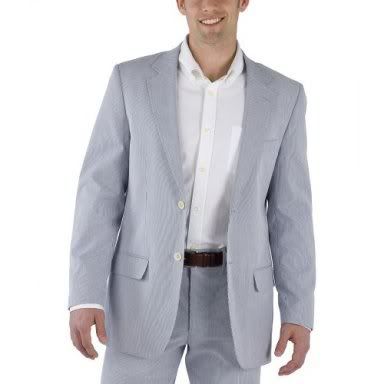 Seersucker was first introduced to Americans via British India, the puckered fabric keeping the cloth away from the skin, facilitating air circulation. It was soon adopted Southern gents to keep them from sweating too hard while enslaving other races, and then by Gatsby-era preppy collegiates.
Today, seersucker exists in the liminal space between these two American periods: it's never quite lost its association with the Deep South, and yet it's favored today by men who listen to Vampire Weekend.
Yet you won't find Vampire Weekend, arguably the preppiest band around, wearing summer seersucker jackets or pants, and for good reason: it looks ridiculous.
From what I can tell, there are two reasons a man might wear seersucker: he wants to employ the innate advantages of wearing this lightweight, puckered, loosely-woven fabric; and he wants to be perceived as "dapper." The latter kind of man will usually accessorize his seersucker with an upturned mustache, a diamond-pointed bow tie, and/or tweed suspenders. If he wears a necktie, he'll invariably wear a tie bar, which will invariably be placed too high.
Don't be this guy…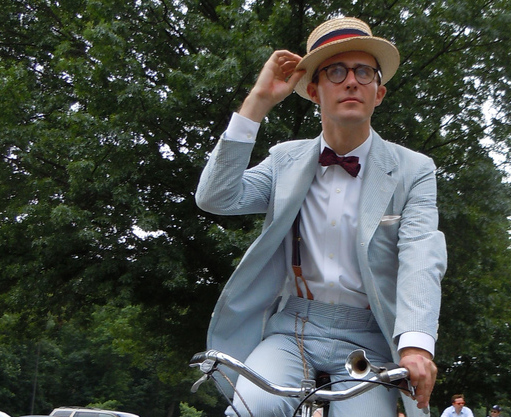 The latter man has few–if any–opinions on fashion, and gets his tips mostly from GQ or Details (which you should never do). He, I'm sorry to say, is the closest modern society comes to a fop–a clownish dandy of the very worst kind. He got this killer, ill-fitting seersucker linen suit from some online menswear site for all of his summer weddings, and confuses the bartender by ordering a Harvey Wallbanger. He looks and acts ridiculous, but–poor fellow–will never know it.
He wears
seersucker
as an affectation, a substitute for a real personality. This is not to say, though, that we can't wear seersucker to add a flourish to our summer wardrobes–quite the opposite. Seersucker has an important place in America's menswear history; it looks cool, it's preppy and fun.
So how can you sport it without looking like Harvey Wallbanger over there? Dress it down.
In order to properly wear seersucker, wear a hat, shorts, or swim trunks made from the fabric. We have to turn to the preppiest brands for guidance here. Vineyard Vines sells a pink seersucker Kentucky Derby cap with a nautical-striped adjustment in the back that gives me a preppy boner every time I see it. Wear it to brunch when your bleary eyes can't bear more sun.

J. Press York St. carries summer seersucker swim trunks in several colors, that, I may add, are cut just right: above the knee. No matter what body type you have; these vertically-striped shorts will flatter you and keep you cool.
Several preppy brands–such as J. Crew and Gap–sell seersucker shorts. If you are buying something, like shorts, that you plan on wearing into public, you'd do well to buy them in a style without the blue-and-white alternating stripes, such as navy. You'll get the best of all worlds here: the puckered fabric will keep sweat from clinging to the fabric, and you'll look like you know what you're doing.

If you do want to wear seersucker to a formal occasion, do it with a nod instead of a head-bang. Brooks Brothers carries a seersucker tie that, when paired with dark denim, looks hip and youthful, instead of antebellum. Paul Frederick carries several cufflinks inlaid with seersucker buttons that will hit the right tone.
And if you do, for whatever reason, against all of my advise, want to wear a summer seersucker jacket, heed these words: wear not other shirt color than white, and keep your collar open, and stay away from the old-timey cocktails. One affectation is plenty.